Dear all
Any update on when the new scriptcase 10 release is going to be released?
Thanks a lot
Hi,
the problem is not when it comes out BUT what can we expect, how many new bugs? and when will they make versions that solve problems and do not introduce others? better in version 9.6 in addition to solving at least the most annoying bugs.
obviously is only my opinion.
I want to believe that it will have real potential for mobile phones.
There is one thing that is the most important of all: support for php 7.4 or (better) 8. php 7.3 is end of life in a few months and taking into account what marcosc says (and he's right) it takes quite some time to get new versions stable and ready for production. Time is really running out for SC, … and us as well.
thank you very much
do we know what new features are in the new version 10
To my experience, Scriptcase is releasing that information just before the release date. But personally I don't care what version number it gets, as long it is stable, without obvious bugs and has support for a higher php release.
you are absolutely right … thank you very much
Scriptcase 9.7 coming soon, with old and new bugs.
Hmm … 65% ???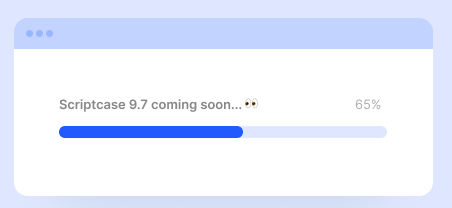 I don't know Rick, it seems fake.
I hope so too.
Because if they are only at 65% then it will not be this year.
With some interventions, you can use PHP 7.4 although not out-of-the-box. That would save the apps for a year as at our University where we run Scriptcase apps, it is not allowed to run end-of-life versions of software due to security and ransomware risks. All competition already support PHP 8.0 for months now, SC is way behind. No messages whatsoever from SC organization, not even an announcement. That bothers and worries me…